Weather Report
From Lee Jeske's Article in "I Sing the Body Electric" (from Internet)
The point, of course, is that Weather Report - whose leaders, Joe Zawinul and Wayne Shorter, lasted 14 years together, 14 years of constant touring and an album a year was always one hell of a band, a hard-driving, hard-blowing, rhythmically furious fusion band that never lost sight of the "jazz" half of "jazz rock."
In Zawinul and Shorter, Weather report had two of jazz's finest composers (Shorter's "Footprints" and Zawinul's "Mercy, Mercy, Mercy" are two of the standards they had composed in the '60s, during their various journeys through such groups as The Cannonball Adderley Quintet, Art Blakey & The Jazz Messengers, and various Miles Davis bands), but more importantly, it had one of those fortitous yin-yang partnerships that have peppered jazz history.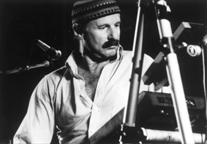 Zawinul was the musical alchemist, sitting behind his bank of keyboards whipping up thick, chewy stews filled with the spices of the world: melodies from his native Europe, rhythms from South America, Africa, and Asia, and the jazz history of North America. Wayne Shorter, ageless, imperturbable, was the blower: playing heated, twisting solos on tenor or soprano, a master stylist with his own sound, his own conception, and a field of influence that stretches over an entire generation of saxophonists (listen to today's crop of tenor saxophonists and you hear Shorter nearly as much as you hear Coltrane).
It's clear to see why rock fans latched on to this, but it's hard - looking back over the years - to see what jazz critics, especially the younger critics who championed the similarly fashioned sounds of late Coltrane and late sixties Miles and Ornette Coleman found so offensive here. One guesses they just felt threatened.
In my files I have a series of Columbia press pictures of Weather Report; they're funny because it seems that the players changed with each release. Most of the photos have four or five people in them, including Miroslav Vitous, Jaco Pastorious, Omar Hakim, Victor Bailey, Alphonse Mouzon, Dom Um Romao, and Peter Erskine. Zawinul and Shorter - whose appearences and expressions change very little from photo to photo - are in them all, of course, but in the very last one - released with the 15th and, so far, final Weather Report album, 1986's This Is This - the two gentlemen are alone. Weather Report, through all its changes in personnel, was Joe Zawinul and Wayne Shorter, a frightfully powerful and talented pair who, for a long time, defined jazz fusion. Fusion simply means a combination of a bunch of different things. I Sing The Body Electric combined its elements seamlessly, with a visceral power that would innform all of Weather Report's work, but which, perhaps, was never quite as raw and aggressive as it is here.