Chapter 4 - Weather Report
Excerpt from the book:
Jaco: The Extraordinary and Tragic Life of Jaco Pastorius, "The World's Greatest Bass Play-er.
(Miller Freeman, June 1995)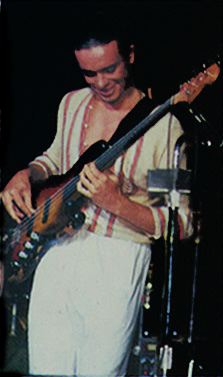 "Hey kid, do you play electric bass, too?"
Jaco had his initial encounter with Joe Zawinul sometime in early 1975. It happened in Miami.
Weather Report was in town to play the Guzman Theatre. After the soundcheck, Zawinul was standing on the corner outside the theatre when he was approached by "this skinny kid with long hair and wild clothes." Their exchange went something like this:
Jaco: "I've been following your music since Cannonball Adderley, and I really love it."
Joe: "So, what do you want?"
Jaco: "My name is John Francis Pastorius III, and I'm the greatest bass player in the world."
Joe: "Get the fuck out of here!"
But Jaco persisted, and Joe admired him for his ballsy stance. "He kind of reminded me of myself when I was a brash young man. I used to go around saying, `I'm the baddest' when I was coming up in Cannonball's band." Joe asked for a demo tape. The next morning Jaco came by his hotel room with a cassette of a typical night at the Lion's Share with Ira Sullivan's group. Although the maestro liked what he heard, he explained that Weather Report already had a great bassist in Alphonso Johnson. Jaco left the hotel somewhat dejected, but he kept in touch with Zawinul over the next several months, sending him letters and more gig tapes.
Joe remembers being particularly impressed by Jaco's handwriting in those letters. "It was really ornate and beautiful, like a Mozart score. And I also liked what he was saying. He seemed like a smart kid who was seriously into the music."
While in New York to record his solo debut, Jaco boldly approached several of his favorite musicians to announce his arrival. "He had a real aggressive personality," remembers guitarist John Abercrombie. "He just went knocking on doors. He went to Keith Jarrett's house and played his bass for him. He went to Tony Williams' house. He went up to Woodstock and met Jack DeJohnette. "He just wouldn't be denied. He was always so hungry to jam. He came to my loft and we played for a couple of hours - just sort of screaming at each other through our instruments."
Violinist Michael Urbaniak remembers being introduced to Jaco around this time by Alan Pepper, proprietor of the Bottom Line. "I came by the club one night, and Alan said to me, `I want you to meet this kid from Florida. He's a really great bass player.' And there was Jaco sitting in the audience with his bass guitar. We talked, and after the show he came back to my apartment on 57th Street. He ended up sleeping on my couch for about a week or so."
During this period, Jaco also made trips down to Philadelphia to visit his father. One of the musicians he sought out in Philly was the great guitarist Pat Martino. They got together for some informal jamming, but none of the music was recorded.
In January 1976, Alphonso Johnson announced he would be leaving Weather Report to start a new band with drummer Billy Cobham and keyboardist George Duke. (The band was the CBS All-Stars, which also included guitarist Steve Khan and saxophonist Tom Scott.) Weather Report was only halfway through the recording of Black Market when Johnson split, causing a temporary dilemma for the band.
"At first, I didn't know what to think in terms of replacing him," says Zawinul. "And then I remembered this kid Pastorius. He had just sent me a rough mix of his solo album, and I was really floored by it, particularly the song `Continuum.' So I called Jaco and the first thing I asked him was, `Hey kid, do you play electric bass too?' He got such a warm, rich sound on that Fender fretless, I thought he was playing an upright bass."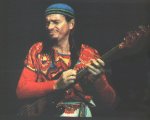 Zawinul and Wayne Shorter arranged for Jaco to come into the studio and play on "Cannonball," an homage to Cannonball Adderley, who had died on August 8, 1975. "Cannonball was from Florida too, and I wanted that Florida sound on this particular track. Plus, I remembered how much Jaco loved Cannonball's music, so I figured he might be the right guy to use. We brought him in, and that was more or less his audition. Wayne and I talked it over, and we both agreed that this kid could play."
In addition to playing on "Cannonball," Jaco contributed a tune to Black Market: "Barbary Coast," a funky, slow-moving vehicle propelled by Jaco's crisp, muted bass figure. "At first, I didn't like that tune so much," Zawinul remembers. "It sounded too much like a Horace Silver line to me. But then we worked a little bit with it and got a nice groove happening. And, of course, that became a kind of signature piece for Jaco."
"Barbary Coast" opens with the sound of a train roaring along a railroad track, its horn blasts fading into the distance. This sound is much more than atmospheric filler; it resonates with deep meaning for anyone who grew up in Fort Lauderdale near the tracks that run alongside Dixie Highway. As a kid, Jaco would often wander along those tracks for miles, dreaming of places he might visit one day. Ironically, those same tracks run past the Kalis Funeral Home in Fort Lauderdale, the site of Jaco's wake on September 24, 1987.
Jaco officially joined Weather Report on April 1, 1976. His earthy R&B feel dramatically altered the character of the band and helped to catapult it to a new level of popularity. As Zawinul puts it, "Weather Report was a really powerful group with Alphonso on bass. But Jaco was in a space all his own. He was so different from all the other bass players of that time. He had that magical thing about him, the same kind of thing Jimi Hendrix had. He was an electrifying performer and a great musician. And he was really responsible for bringing the white kids to our concerts. Before Jaco came along, we were perceived as a kind of esoteric jazz group. We had been popular on college campuses, but after Jaco joined the band we started selling out big concert halls everywhere. Jaco became some kind of All-American folk hero to these kids."
Part of Jaco's appeal was the sheer visceral strength of his groove-oriented bass playing, which he had honed to perfection during those ten months on the road with Wayne Cochran & the C.C. Riders. You could feel Jaco's powerful 16th-note lines pushing the band, challenging the soloists while still holding down the groove. The clarity of his ideas and the speed of his execution astounded listeners. As Chip Stern noted in a Musician article on Weather Report: "Jaco Pastorius, one of the most original and inspired musicians of the decade, is able to take on Miroslav Vitous's rhythmic-harmonic-melodic role and put up the funk as well."
A natural extrovert, Jaco was acutely aware of the concept of showtime, an awareness he inherited from his gregarious father. With his Florida hippie attire (baggy white beach pants, tie-dyed T-shirts, headband or Phillies baseball cap covering his shoulder-length hair) and wild stage antics, Jaco quickly developed a charismatic stage persona that captivated the curious.

One of his favorite tricks was to spread baby powder on the floor so he could shuffle and slide across the stage with the ease of a young James Brown. "He would never go on without that baby powder," remembers one Weather Report roadie. "And if he ran out of the stuff, he'd send me out to the nearest store and hold up the show until I got back with it."
Peter Erskine vividly recalls his first encounter with Jaco's baby-powder routine. "We were in Japan. It was my first concert with Weather Report (in the summer of 1978). During the soundcheck the road crew was spreading baby powder on the stage, and I asked, `What's that for?' Jaco indicated shoosh to them, like it was some big secret or something. He looked at me sort of smiling and said, `You'll see.'
"That night we started the concert with Elegant People, a Wayne Shorter tune. Just before it kicked into the funky section, Jaco came over to me and yelled, `Check it out!' And he started doing these amazing James Brown moves, gliding across the stage on one foot like he was ice-skating. I couldn't believe it. It looked so great, I just started laughing. And all the while, he was playing the funkiest bass so effortlessly and looking back at me and smiling. That was the best welcome into the band I could have imagined."
Throughout his time with Weather Report, Jaco would use his solo feature in concert to pay tribute to his heroes, quoting liberally from Jimi's "Purple Haze" and "Third Stone from the Sun," Bird's "Donna Lee," Wilson Pickett's "Funky Broadway," and the Beatles' "Blackbird." With this pastiche of musical styles, Jaco not only entertained the audience but opened some ears to new sounds, providing a bridge between the rock and jazz camps. Young white rock fans would flock to Weather Report shows to see Jaco throw his bass up in the air like Pete Townshend of the Who and do backflips off his amp, and they'd come away with their first taste of Charlie Parker and John Coltrane.
While some critics dismissed Jaco's stage antics as shameless grandstanding, they could not deny the brilliance of his playing.
With the exposure generated by his solo debut album and Weather Report's Black Market, both out by the summer of 1976, Jaco was heralded as the big noise in the industry, the guiding light of a new generation, the player who was single-handedly changing the role of the electric bass. The facility with which he played was unprecedented in the short history of his instrument, which had been invented only 25 years before. His time was flawless, his stamina staggering, and his melodic invention went well beyond the accomplishments of such electric bass pioneers as Monk Montgomery, James Jamerson, Duck Dunn, and Jerry Jemmott. And Jaco's creative use of harmonics was nothing less than revolutionary.
As Mark C. Gridley points out in his book Jazz Styles: History and Analysis, Jaco could more than cover all of the standard jazz bass-playing styles: "He walks persuasively, as he proved on `Crazy About Jazz' (contained in Weather Report's eleventh album, which has the same title as their first: Weather Report). He plays in the nonrepetitive, interactive way (identified with Scott LaFaro), as evidenced on `Dara Factor One' (also on the eleventh album) and `Dream Clock' (Night Passage). And, he is a natural funk player, providing the proper rhythmic feeling in accompanying soul singers Sam & Dave on his own album (Jaco Pastorius), as well as the dancing feeling he lent Weather Report's `Barbary Coast' (Black Market), `Palladium' (Heavy Weather), and `River People' (Mr. Gone)."
Bass players everywhere quickly picked up on Jaco's message. At a time when Stanley Clarke represented a new standard on electric bass, one based heavily on the thumb-slapping innovations of Larry Graham and Louis Johnson, along came Jaco with a wholly different concept. He swung open the doors for an entire generation of players, inspiring them to explore new sounds and challenging them to extend their technique on the instrument.
Mark Egan recalls those days: "I had been listening a lot to Stanley Clarke and was very impressed by what he was doing with Return To Forever. But Jaco's approach was much more advanced harmonically, and he played with such frightening intensity and attitude. That's one thing he taught me when I studied with him-just by playing with him, just by being in the same room with him, he taught me to play with a kind of conviction I never knew before."
While Zawinul and Shorter served as his mentors, Jaco was especially close to his rhythm-section mates in Weather Report, drummer Alex Acuņa and percussionist Manolo Badrena. "Playing with Jaco was really a treat," Acuņa says of his former comrade. "His grooves were so strong and his tone was so unique, so fresh. It was like being in the desert, all thirsty and hot, and then somebody comes along and offers you a nice cold glass of lemonade. That's basically what Jaco did for me when he joined the band."
Jaco's outside projects during his first year with Weather Report included guest appearances on Al Di Meola's solo debut, Land of the Midnight Sun, on rocker Ian Hunter's All-American Alien Boy, and on Joni Mitchell's Hejira, an album that presented the bass monster as sublime accompanist. Jaco's playing on Hejira is marked by thoughtful restraint and tender lyricism on tunes like "Black Crow" and the haunting title track; he also achieves an uncanny vocal quality on "Refuge of the Roads," which must rank with Zawinul's "A Remark You Made" as one of Jaco's most poignant statements on the instrument.
It didn't take long for young Pastorius to assert his presence in Weather Report. On the band's next album, 1977's Heavy Weather, he not only contributed two compositions, "Havona" and the classic chops showcase "Teen Town," but was credited as co-producer alongside Zawinul. "That was a matter of his workmanship and his input," says Joe. "Jaco had a lot of input on that album, and I believe in giving credit where credit is due. We all contributed a lot in those days, in different areas. For Wayne, the studio was really not his thing. He was there a lot of the time, but he let us run the board. And Jaco had an especially good working knowledge of the mixing board. I knew the music inside out, that was my strength, but Jaco knew a lot about adding reverb to the instruments and getting a good drum sound. And his work at the board gave such a huge presence to his bass sound.
"He had really keen ears. He could hear all the parts very clearly, and we worked well together, side by side, with all 20 fingers on the board. This was before automation, you understand. Jaco was definitely a hands-on producer. Wayne did other things, like coming up with song titles, but as far as putting the music on tape, it was mostly Jaco and me working together. Long after everybody else had gone home, he would still be at it, sitting there with the engineer and doing the mixes."
Heavy Weather was a phenomenal success, far outdistancing the sales of the more esoteric Black Market. Initial sales figures were around the 400,000 mark; the album has since gone gold (500,000 units sold) and been reissued on CD as part of the Columbia Legacy series. The tune that converted many listeners into Weather Report fans was "Birdland," a catchy Zawinul composition inspired by the composer's memory of hearing the Count Basie band in the 1950s at the famous New York jazz club of the same name. That riff-driven tune received tons of radio airplay in 1977 and served as an introduction to jazz for many listeners crossing over from the rock or pop camps. It also received wide exposure in discos and was later covered by the Maynard Ferguson big band and the Manhattan Transfer vocal group, among others.
Another striking number on Heavy Weather was "A Remark You Made," an evocative ballad Zawinul had written specifically with Jaco's singing fretless bass in mind. As Joe explains, "That boy had a sound that was so easy to write for, especially ballads. There were many strengths that Alphonso brought to the band, but tone-wise he was in another category. What I wrote for Jaco, I could never have written for Alphonso."
Zawinul often referred to Jaco as "The Catalyst" for his ability to ignite a session or concert with sheer drive. "He was this excitable young kid when he joined the band," says Joe. "Wayne and I were already into our forties, and this kid Jaco kept us young with his energy and charisma on the bandstand. And his stamina was incredible. I have never seen another bass player have such stamina. He could play those 16th-note lines at super-fast tempos over and over and never slow down or stutter. We used to do this one tune called `Volcano for Hire,' which is just burning 16th-notes, and every night he would nail it. He was always on, always pushing the band. And that really kept all of us on our toes. Every band needs what I call a warhead - the driving force, the motor. And in this band, Jaco was the warhead."
By 1978, Jaco was indeed sitting on top of the world. He was named #1 electric bassist in both the critics' and readers' polls of Down Beat magazine. Mr. Gone came out and instantly went gold. Musicians and fans around the world sang his praises. But even as Jaco became ruler of the bass empire, his family life was crumbling around him. Tracy filed for a divorce at the end of 1978 and eventually got custody of the house and kids, which left Jaco feeling bitter and angry. This led to more drinking and drugging, which only enhanced his depression, triggering the cyclical process of self-abuse that would soon spin out of control.
And Jaco grew increasingly fatalistic. As Zawinul recalls, "We were in Barcelona playing a gig, and afterwards Jaco and I went back to the hotel. It was late in the evening, and we were sitting on this bench outside the hotel, drinking a little bit and talking about philosophers - Schopenhauer, Spinoza, Nietzsche. All of a sudden he looks at me and says, `You know what, man? I'm not gonna be 35 years old.' And I said, `What the fuck are you talking about? You're a young punk, you got everything going for you in life. Just do what you're doing, and you're gonna live to be 105, okay?' And that was it - but it was a weird and kind of scary thing for him to bring something like that up, out of nowhere."
By the summer of 1978, Peter Erskine had replaced Acuņa as the drummer in Weather Report. Erskine and Jaco struck up a close friendship and had an especially strong hookup as a rhythm section. "Jaco basically got me into the band," says Peter, "and I will always feel a debt of gratitude to him for that. He had heard me in Miami with Maynard Ferguson's band around 1977 and later recommended me for the gig. He kind of took a chance after hearing me just that one time. But on his recommendation, they hired me sight unseen for a Japanese tour."
Erskine's first encounter with Zawinul, the stern patriarch of Weather Report, came in New York during rehearsals for that summer tour. "I got to the S.I.R. Studios on time and started setting up my drums. I was very eager to meet everyone and start playing. Meanwhile, these guys kept calling in to say they were running late. The rehearsal eventually started about five hours later than it was supposed to. Joe came in first and was very cool. He just kind of sauntered over and shook my hand. Wayne was friendly. Jaco bopped in, said hi, and then ran back out to get a six-pack of beer.
"I was so impatient, having sat around all day waiting for them, that when Joe started noodling on the synth, I jumped up and started playing along with him. Finally, Jaco came back in with a six-pack of Heineken, and he looked up to the stage where we were jamming. He had a big smile on his face. He ran up and grabbed his bass, and we just started jamming before going into `Gibraltar.' When we finished, it was like we had just done a show or something, the vibe in the room was so high. I remember Joe and Wayne and Jaco were all slapping hands, and they included me in on that, which really made me feel like I was a part of the band. So the next day I asked Joe, `Can I tell my friends I'm in the band?' I was really excited and wanted to go public with this. And Joe said in that gruff manner of his, `You can tell your friends you're going to Japan.'"
During his first tour with Weather Report, Erskine noticed that Jaco was no longer the straight-laced family man he remembered from their first encounter the year before. "He was partying pretty hard all the time. Jaco and Joe had this ultra-macho competitive thing going on - bragging a lot and drinking a lot and trying to see who could out-hang who. And it was at that point that Jaco started to pursue some other muse. He started to change."
In the early part of 1979, Weather Report made a trip to Havana, where they took part in the historic Havana Jam, the first concerts held in Cuba by American artists in 20 years. The three-night festival, sponsored by Columbia Records, was held at the Karl Marx Theatre and featured a stellar cast of CBS recording artists, including Billy Joel, Stephen Stills, Kris Kristofferson, and an allstar jazz group with Stan Getz, Bobby Hutcherson, Dexter Gordon, Tony Williams, and Woody Shaw.
Besides appearing with Weather Report, Jaco also performed a set with guitarist John McLaughlin and drummer Tony Williams, who had played on some tracks from Mr. Gone. Billed as the Trio Of Doom, they played music that was fast, frenzied, and full of energy. This lineup promised to be the ultimate fusion power trio, but Jaco's erratic behavior on and off the bandstand virtually sabotaged the gig.
As McLaughlin recalls: "It was such a shame. Tony and Jaco and I had rehearsed in New York, and what a trio that was! What a pleasure it was to play with them! After one rehearsal, we actually went in to record with Joni Mitchell (for her Mingus album). We did one tune; later they wiped Tony and me off the track, which I also thought was a shame. But the rehearsals for our Trio Of Doom gig were happening, and we went down to Havana with high expectations.
"We started off our set with my tune `Dark Prince,' which is an uptempo C-minor blues with altered changes. It was really a chance to stretch, but Jaco just threw down the music, walked back to his amp, turned it up to 11, and started playing in A major really loud against it. I was looking at Tony like, `What's going on here?' It was nothing like the rehearsals. He did the same kind of thing to Tony's tune. And then he went out and did his whole audience routine. It was a fiasco."
To this day, McLaughlin jokingly refers to that ugly episode as the Bay of Gigs. "I was so mad at Jaco. He came offstage saying, `Yeah, man, that was the shit!' And I told him, `I have never been more ashamed in my life to be onstage with somebody. That was the worst shit I ever heard in my life. I don't want to see your face for at least a week.' I really was mad at him. Tony was mad, too, but he wouldn't say anything. He got mad later. We went into the studio to try and do something, but there was a big fight between them. Jaco was acting crazy and being very obnoxious, and Tony just got fed up with it. He flipped out and smashed his drums and walked out of the studio. And that really tore Jaco to strips.
"It was evident to me during this period that something was going on with Jaco that didn't have too much to do with music. There was something happening in his mind. I don't know what it was-it was some kind of idea or image of himself, of what he had to do or what he felt he was supposed to do. It was really crazy. It certainly had nothing to do with what we were playing. It was strictly Showtime, and it was sad."
Erskine says the trip to Havana was the first time he remembers Jaco as being out of control. "The Trio Of Doom set was a disaster, to everyone's embarrassment and disappointment. After the set, Tony and John were both disgusted. And Jaco's response was to jump into the ocean from a backstage balcony of the theater, amidst plenty of dangerous rocks. There was a lot of drinking going on during these concerts, especially of a Cuban drink called mojito, which was some kind of rum-and-lime-juice concoction. At one point, Joe had to rescue Jaco from trouble when he stated taunting one of the guys from the Fania All-Stars, a group of Puerto Rican and New York musicians. Jaco got into some kind of a racial name-calling situation, and Joe stepped in to prevent a fight. Joe had to do that on several occasions during the time when we were all in the group together."
Later that year, Weather Report released 8:30, a live double-album documenting their recent world tour. Jaco also went out that year with Joni Mitchell on her Shadows and Light tour; the band included Pat Metheny on guitar, Michael Brecker on saxophone, Lyle Mays on keyboards, and Don Alias on drums. Originally the group was supposed to include Wayne Shorter, but there was a provision in Weather Report's contract that no two members of the band could appear together in any side project, so Brecker was hired instead.
During Joni's road show, Jaco was featured in a solo bass spot every night. Using the repeat function of an MXR digital delay, he would lay down an ostinato, loop it, and then play solo lines on top of the repeating riff. As he played, he would - of course - slide around the stage on the baby powder sprinkled beneath his feet, and he would often get the crowd to clap along with the beat while he danced and strutted his James Brown moves. As the solo gathered speed, Jaco would turn up the built-in fuzz tone of his Acoustic 360 amplifier full blast and launch into an explosion of feedback, quoting from Jimi Hendrix's "Third Stone from the Sun" and "The Star-Spangled Banner" along the way. He would then climax his showcase by laying his bass down on the stage (pickups still howling), climbing on top of his amp, and jumping onto his instrument. Sometimes he would
mockingly whip the bass into submission with his guitar strap, like some sort of a comical Marquis de Sade. (One good example of Jaco's solo showcase can be heard on the track "Slang" from Weather Report's 8:30. And you can see him in action on the video from the Shadows and Light tour, released on Warner Video.)
The audience was often driven to a frenzy by Jaco's cathartic ritual, just as the crowds at the 1967 Monterey Pop Festival went wild when Jimi Hendrix set his guitar on fire. Like Jimi, Jaco knew how to engage and excite a crowd. And there was no one else in jazz, with the possible exception of Sun Ra, who had such a theatrical streak - and such a desire to entertain. As Jaco once confided to me with a knowing wink, "This ain't nothing but a show. It's just show business, that's all."
In early 1980, Weather Report released Night Passage, which contains the enigmatically titled "Three Views of a Secret," a moving, dramatic ballad that Zawinul regards as Jaco's finest composition. Jaco may have copped the title from a tune Charlie Brent had written in 1971, but this piece is strikingly original and a crowning achievement in his career.
"`Three Views of a Secret' shows that Jaco was extending the legacy of Mingus as a bassist with serious compositional skills," says Ken Pullig of the Jazz Composition department at Berklee College. "... Jaco shows his skill at taking a simple sound and then using it in a new way, rather than simply repeating it. Overall, there is enough repetition in the piece to make it accessible to the average listener and enough compositional development to satisfy the artistic segment of the listening audience. `Three Views of a Secret' is a very well crafted piece."
Night Passage also contains some other classic Jaco moments, including his furious walking lines on the uptempo "Fast City," his shuffle groove with Peter Erskine on the title cut, and his extended duet with percussionist Bobby Thomas on "Port of Entry," perhaps his most awesome display of chops on the album.
Later in 1980, during their U.S. tour, Weather Report played a gig at the Sanger Theatre in New Orleans. On that swing through town, Jaco looked up two old friends from his C.C. Riders' days, Charlie Brent and Allyn Robinson. . . .
Robinson also went backstage to visit Jaco. "We had been out of touch for the previous five years or so, and during those years I actually had no idea what he really thought of our days playing together with Wayne Cochran. Here he was an international star. He had reached such a high level. I was so proud of the guy - he was just this skinny little kid who had turned all his ambition and talent into something, and he was back in town as a big star."
Robinson was surprised to hear Jaco speak so highly of the Cochran band that evening. "He said he carried a gig tape from those days around with him all the time and played it for everybody. The roadies told me, `Man, Jaco is driving us crazy with that tape. That's all he ever talks about - how great that band was.'" Jaco clung to that tape for years, because it reminded him of a time before he was "The World's Greatest Bass Player." Back then he was just a kid, learning and developing, still hungry. And more important, perhaps, it reminded him of a period in his life when he was probably the happiest he ever was.
"In the Cochran band, things were much simpler for him," affirms Robinson. "He didn't drink or do drugs. He was still married to Tracy and had two beautiful kids. After he got in Weather Report, he started drinking heavily and drugging a lot. He left his family, got divorced, remarried, started drinking more. His life just got so complicated. He was making big money and was this big celebrity and everything, but he didn't have the peace of mind that he had in the Cochran days. That's something he never found again."
Robinson says he saw a changed person that night in 1980. It was certainly not the Jaco he remembered from the C.C. Riders. After hanging out and exchanging small talk backstage, Robinson and Brent split to play a gig at a Bourbon Street nightclub. Always ready and willing to do the latenight hang, Jaco tagged along.
"Jaco dragged Peter Erskine and Zawinul and Wayne Shorter along to our gig," Robinson recalls, "and the whole time he kept talking real loud during our set about how great we were. It was embarrassing. He seemed really different to me, so full of angry energy. At some point the rest of the guys in the band wanted to leave, but Jaco got mad and said he wanted to stay. He had a sort of temper tantrum right there in the club, and the other band members just got on the band bus and took off. They were going to leave him there. So Jaco runs out of the club and starts chasing the bus and hollering at the driver to stop. They finally stopped about two blocks away. And that was the last time I saw Jaco for a while, until he came back to town a couple of years later with his Word Of Mouth band. And each time he came back, he would look worse. I could see his gradual self-destruction happening right before my eyes. It was heartbreaking to watch." While he was working on his second solo album, Jaco put together a quintet in New York with Michael Brecker and Bob Mintzer on saxophones, Don Alias on percussion, and Erskine on drums. Their first gig together was in the winter of 1980 at Seventh Avenue South, a popular jazz club in which the Brecker brothers had a financial interest. As Michael Brecker recalls, "For some reason, we couldn't advertise this gig. It had something to do with Jaco still honoring his commitment to Weather Report. As it turned out, the place was packed anyway. The news of that gig spread completely by word of mouth. And that was how Jaco got the title for the album and the name for his band."
Mintzer remembers that gig as a loose, jamming affair. "It was very much improvised. I had expected Jaco to provide us with all these incredibly thoughtout charts, but it was exactly the opposite. There were no charts, and there was hardly any rehearsal at all. The whole thing was very characteristic of Jaco. His attitude for that gig was, `We'll figure it out later.' He always let a lot of things happen on the bandstand."
Word Of Mouth was released in the summer of 1981 to critical acclaim, and it later earned Japan's Golden Disc Award as the top jazz recording of the year. In a strange bit of power politicking, CBS had come out of the woodwork at the last minute, just prior to the album's release, claiming that Jaco still owed them an album from the Epic deal. A huge corporate tug-of-war ensued. The matter was finally resolved with the provision that no CBS artists be listed in the album credits. This meant that the likes of Herbie Hancock, Hubert Laws, Wayne Shorter, and Tom Scott could not be named anywhere on the album.
Jaco's response was typically defiant: "If they can't be listed, then nobody will be listed." So, on the first 50,000 copies of Word Of Mouth that were pressed, there were no credits. On subsequent copies, all the names were listed as Jaco had intended, with different colored lettering high-lighting each guest artist.
Jaco continued to tour and record with Weather Report, but by 1982 his role in the group had been significantly reduced. Not only was he not listed as co-producer for the album they released that year, but it's clear from even a cursory listen to the record that Zawinul was fighting to exert his dominance over the band. His layers of overdubbed synth lines all but bury Jaco's bass on several cuts, reducing "The World's Greatest Bass Player" to a pedestrian sideman.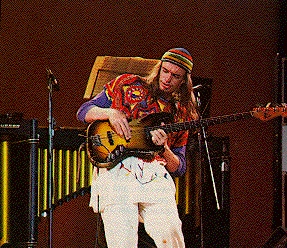 "There was a certain amount of tension between Jaco and Joe," observes Erskine. "I think Joe was getting tired of Jaco jumping around onstage and doing his Hendrix stuff, and Jaco was frustrated having to play all these written-out bass parts that Joe was composing for this new thing he was conceptualizing. And it drove Jaco nuts that Joe was doubling the bass with synth bass. He really hated that. So Jaco started committing himself to projects outside of Weather Report."
Feeling stifled by Zawinul's "technological overkill," as he called it, Jaco decided to leave the band in order to devote more time to his own Word Of Mouth project. From Zawinul's point of view, "It was time for him to go. He wanted to lead his own band, and he wanted to write for more horns."
Zawinul maintains that Jaco's departure from Weather Report was an amicable parting of the ways. "We had talked about it for a long time before he actually left. What happened was, we were all planning to take off the whole year of 1982. Wayne wanted to do something on his own, and I wanted to do a solo album myself. Jaco had been talking about taking a big band out on tour to play the charts he had been working on. So we said, `Fine, no problem.' It was going to be our year away from Weather Report. Our plan was to regroup again in 1983 for another album and tour.
"But then our management told us we had to change our plans and go out on tour in the spring of 1982, because people had already put out a lot of money for publicity and for securing venues. Our managers had promised people, unbeknownst to us, that we would be back out on tour in April 1982, when we were all planning to take off that entire year. So we had to change our plans. Otherwise, Wayne and I would have had to pay penalties in excess of $70,000, just to pay people back. So we were stuck. We had to do the tour."
But Jaco was already committed to tour Europe and Japan with his Word Of Mouth band. "We had no choice," reasons Joe. "We had to find another bass player, which is how we got Victor Bailey into the band. Basically, Jaco went his way and we had to go ours."