Interview with Jaco Pastorius, 1978
Way back in 1978, Clive Williamson, then a BBC radio journalist, found himself interviewing Jaco Pastorius for a jazz programme. At the time, Jaco was touring the UK with Weather Report...
With Jaco at the height of his powers as a genius bass-playing musician, this transcript provides a fascinating insight into his musical achievements. Two decades ago, not much was known about the fantastic sound that Pastorius used with arrogant ease, and Clive Williamson was eager to get to the bottom of the 'mystery', as you'll discover.
Read on, and enjoy a rare interview with the master at his talkative best.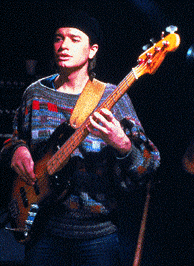 Some music ­ really extraordinary music ­ has the ability to give you real goose-bumps when you listen. It can be the composition, the arrangement, or the playing that triggers the sensation, but it's a pretty rare experience. Jaco Pastorius was one of the few bass guitarists I've encountered whose playing could give me that sensation. Now, of course, he is gone, but despite a relatively brief recording career from 1974 -1986, Jaco left a huge body of work for us to enjoy and remember him by. From his first recordings with Pat Metheny, as well as superb playing and writing with Weather Report, through to his breath-taking solo work and thoughtful contributions as a session player, Jaco Pastorius's musicianship and spirit live on.
As a freelance radio journalist, I was lucky enough to interview Jaco in October 1978, when Weather Report arrived in London to play at the Hammersmith Odeon, and to publicise their latest album, Mr. Gone. Naturally enough, there was no hint of what was to come... Jaco was vibrant, alert, witty and charming to meet, and, characteristically, in no doubt as to his own talents! Outwardly, at least... In an attempt to find out how he achieved his unique sound, I first asked him to describe his bass set-up:
"Do you get that incredible singing bass sound on an ordinary guitar, or are there some special effects that you use?"
"I don't use anything special... I've actually got less on it! I have a fretless bass, so it's virtually like I'm playing a wood bass. In other words, the strings go into the wood on the neck and then ­ being that it's a bass guitar ­ it gets that bright, direct sound. So I'm the first guy to be using a fretless, is actually what it boils down to, and then more, because I'm the first to really get down and play it, because other guys cannot play it in tune, y'know? I've been playing the bass guitar for almost 12 years, and I've been playing fretless for about nine, so I've got quite a bit of mileage in my hands already. I play in tune like a celloplayer, and use legitimate vibrato. There are no tricks... it's just all in the hands! I just have a standard 1962 ­ I think it is ­ Fender Jazz bass, that I took the frets out of."
"What amplifier do you use with that?"
"In the studio I don't use an amp, I just go direct, right into the desk. It's virtually acoustic is what I'm doing, you see? And then on stage I use an old Acoustic 360 ­ two of those amps, actually ­ and you get into all sorts of fun! It's a whole different thing on stage... (laughs) Are you comin' to the show tonight? (smiles) You should really come along, because it's some other stuff completely (laughs). This is some real fun!"
"I first heard your very distinctive sound on Joni Mitchell's Hejira and Don Juan albums. How did you become involved in those recordings?"
"Joni told me that a guitar player named Robben Ford ­ who was playing with her ­ they were touring when my solo record had come out, and he played her the album and she was knocked out! She just tried to get a hold of me, and that was it, really. I just went and played! I didn't even know anything about Joni Mitchell. I hadn't even heard her music. In fact I hadn't heard any of Weather Report's music before I joined the group. You know, I'm a father, my daughter's almost eight, and from when she was born, I've had no time to listen to music, so I don't know that much about what's going on. I knew Miles Davis' music and Coltrane, and James Brown and the Beatles. I know that stuff dead, Frank Sinatra's too; that was what Iwas listening to, but once my kids were born I was working around the clock, didn't have time to listen to music.
Also, music started changing and I didn't like where it was going for a while. It really needed some direction, but now it's got Weather Report! (laughs) So I didn't know (Joni's) music, but it was really fun coming in from nowhere, and adding this thing! It was a nice combination, especially on the Hejira album. The cut 'Hejira', itself, I really like. It hink that was the first thing I played with her."
"There used to be a lot of contractual difficulties when artists from a different record company played on albums like that. Is there any easing off on that position now?"
"I have no idea; I'm a baby at this. I've only been on records for two and a half years now, though it seems like I've been on records for much longer, because of my force (laughs). No, I don't know, man. I'm not going to worry about anything like that. I just play it, I don't even think about it. I have no record contract, so it doesn't matter. I just do whatever I want! "
"It was after Black Market that you joined Weather Report. What were the circumstances surrounding your recruitment to the band?"
"I had met (WR founder) Joe Zawinul a couple of years prior, when I was teaching at the University of Miami. I was writing for their Big Band and there was a Weather Report concert, and the University of Miami Big Band was the opening act. I played a couple of tunes with the band. Weather Report was late, and Zawinul didn't hear me, their plane was late, but I came back later to get my equipment backstage, and, as I was leaving, I walked round the corner and literally bumped heads almost. He was being interviewed, and one said to him, 'Hey, this is Jaco; this is the cat! You gotta hear this guy! This is the best bass player in the world!' Zawinul's like, 'Oh yeah?' you know? And he just said 'How can I hear what you do?' I had a cassette I'd made with a couple of friends, and my brother and I went down to the Holiday Inn on Miami beach the next day and played it for him, and he said he would hook up with me in the future.
Then, during the Black Market album, which by that time was completely done, he got hold of me to play this tune, 'Cannonball', which didn't have the right feel that he wanted. I don't know for sure because we never talked about it, but because Cannonball was from Florida, and I'm from Florida, he said he'd wanted that Florida feel on this tune, and liked the way that I played the 'singing' type sound. So I came and played that one tune and then he asked me to join the band. He asked me if I'd like to go on tour, and I said 'Yeah,' like, give it a try, what the heck? But this was after I'd already done my solo album, and I was waiting for it to come out. It was always getting postponed because it
was really pretty untogether, but then I joined Weather Report."
Jaco's Solo Album
From those first singing, fretless bass notes at the beginning of 'Cannonball', I was aware that something different had happened to Weather Report. Here was Jaco, intelligently and articulately filling out the bottom end of their music, but giving it a chance to breathe, and easily providing the drive where it was needed. He seemed to be just as happy playing the lead line on the bass, too! Hearing 'Cannonball' and then Heavy Weather, encouraged me to find out more about Jaco, but at the time of the interview I hadn't been able to track down his much-acclaimed solo album. I asked him to tell me about it.
"Yeah, it was... a great album! (laughs) It didn't get promoted, and that's all I'll really tell you about it. That was a real drag 'cause it was really a good album. That was the first time I'd really been on a record, you know; so not a bad album for a debut recording, let alone as a leader! I hadn't even been a sideman on an album before that. Like I said earlier, I joined Weather Report after that album was already done. It was just a good experience ­ it was fun!"
I had to admit to not having heard Jaco's album at that point, due to its then non-availability in the UK. Jaco was keen that I should hear it!
"Oh, you gotta check it out! You got to! Listen to the first tune, the first cut on the album, and you're dead," he shouts. "You will not believe it! This is my claim to fame, I play 'Donna Lee' ­ y'know? Charlie Parker's 'Donna Lee' ­ just bass and conga drums (played by Don Alias) and LOOK OUT! You never heard nothin' like this, just be-ware! (smiles) See, everyone thought it was a piano player or somethin' doing it, because I'm playing the changes so well! It's never been done on a bass like this, and it's crazy that most people haven't heard my solo album. In Europe, in a couple of countries, it was their album of the year, and it didn't sell but a couple of records. But I know I've got a 'gold cassette' somewhere! Or I should have," he mocks, "because everybody's making cassette copies of it, y'know? (smiles). Everybody tells me, 'Hey man, I've got a tape of your album', which is sort of a drag because it's illegal to do that, to begin with, and because I receive absolutely no money from people doing that.(The blank tape manufacturer) Maxell makes all the bread, you know." (laughs)...
"So we have to listen to 'Donna Lee', you reckon?"
"Oh, you should just listen to the whole album! Listen to 'Opus Pocus' and 'Continuum'... and 'Portrait of Tracy' is a thing with harmonics, if you know what that's about? I'm playing all this harmonic stuff ­ and this is the first time it was ever done ­ is on this solo album. The whole tune is played using nothing but harmonics, and only on one bass, but it sounds like five guys! So you gotta check it out! Oh, by the way, for my solo album I got nominated for two Grammies. 'Best Jazz Album Of The Year', and 'Best Jazz Soloist', so I got nominated for Best Jazz Soloist two years in a row for Grammies, and I didn't even know it! But neither did Epic Records, my record label ­ the dummies!"
PART 2:
"Any plans to record another solo album at the moment ?"
"I might start on another soon. I already have the music written for a new album, but I'm too busy putting all my efforts into Weather Report. We've been working so much this year alone, it's our world tour but we've already completed the next Weather Report album, Mr Gone, plus we've played Japan, Australia, Hawaii, all of Europe; we're having a week off, and then we'll promote the album in the States for seven weeks straight ­ I really don't have that much time to do anything else! At the end of this year, I think we're going to Cuba and then that will be about it. January we'll have off, so I might start working on something in January."
"Heavy Weather was the album that followed your debut with Weather Report on Black Market. 'Birdland' from that album received a Grammy nomination for the best instrumental composition of 1977, and the whole LP now seems to have been very well received and has done very well in countless jazz polls. How did you approach the recording of Heavy Weather?"
"This was the first time that I was involved from a producer's standpoint, too. Joe (Zawinul) produced, I co-produced. I was in there the whole time and was completely involved. Before that, like with Black Market, I went in like a sideman who just played and left. I was virtually gonna do the same thing on Heavy Weather, but Joe hooked up on how good I was working, and he said, 'I want you here for the whole project, we're gonna do this together.' And we went on to do the same thing on Mr Gone. Everything else I'd played on (like with Joni) had just been as a sideman. But I got to get this sound ­ like on Joni's, was it 'Jericho'? The tune before or after 'Jericho' I can't remember, er ­ 'Talk To Me', that sort of a sound. I tell them to get that sort of a sound for my bass from the desk, and I've got to hope they'll get that out on the record sounding good. Like in Joni's case, Henry Lewy and her work good together in the studio, and me and Joe work together: this is our second project together and this only my second time from a producer's standpoint. But Joe's the leader of the band and he's got seniority. He's in Los Angeles all the time and I'm in Florida. I always fly out to him!"
"It sounds as if you don't see each other very often, except for rehearsals, gigging and recording ?"
"But that takes up almost all year...!"
"On 'Teen Town', with its great 'talking' lead line on the bass from you, you're also playing drums!"
"It's... TRICKY! I'm a drummer: that was my first instrument when I was a kid, and I switched to the bass because I broke my arm in an accident. I didn't have to go to the bass, but I had to stop drums because I had no power left in my left arm, and from about age 13 to 18, my left arm was pretty useless. I couldn't push, man; and like, to play the drums, you gotta push. I was playing in a band on drums ­ one that I'd started actually ­ and I got kicked out! But they asked me back if I was playing bass, so I bought a bass and joined them again!
I was 15, I didn't know where the notes were or anything, I just started grooving, y'know? And I've never been out of work since, with the bass! But yeah, 'Teen Town' was actually a place I use to go to dance when I was 13, and it was a church on the Intra-Coastal waterway, in Pompano Beach, Florida. I used to just wish I could be up there playing drums, that's why I sorta had to play the drums on this tune ­ because the drums are talking with the bass, too ­ because now I'm a bass player, but I can still play the drums, y'know? It's a lot of fun: 'Teen Town' is like a little theatre thing, yeah? You're a kid and you go to Teen Town; you're 13 years old; you wanna hang out with some chicks; there are all sorts of little ego trips going on in there; all that sorta shit is going on in there. And at the end, it gets a little mysterious, because you start growing up... It's all in there!" (laughs)
"You've continued to play drums on the Mr Gone album."
"I play on a couple of cuts. I'm an R&B drummer: that's what I grew up playing. On the bass, my forte is also playing R&B. Sometimes when a little funk beat is needed, I'll just lay in acouple. (laughs) I have a tune, 'River People', and I wanted a certain kind of feel, so I deicided to play drums on it. We were in a transformation period, I broke my right wrist and we had some time off, and just Joe and I were in the studio. So we did 'River People' that way, building the tune up on the spot. It was all written out, so all Joe had to do was play his parts, and I played mine, and it just all gelled together, and I did some overdubs. In fact, we played the bass parts together 'coz he got this synth sound ­ sort of a little twang, almost like a little guitar on the top ­ with my bass rolling on the bottom. So we just played to the click track, and I went back and overdubbed the drums with that, as opposed to 'Teen Town' where I played the drums first, and overdubbed the bass part afterwards."
"Is there anything else you could tell me about 'River People' ?" ('River People' featured Jaco ondrums, timpani, bass and voice; Wayne Shorter, soprano sax; Joe Zawinul, keyboards, ARP2600 and Prophet 5 solo).
"River People" I wrote in the Everglades, where I was bass-fishing four years ago. It's an older tune, about a day with the river people, like they get their feet right in the mud there; so the bass part: I sang the bass part (sings and claps time) 'mm-maa, mm-maa, hmm; mm-maa, mm-maa mm-aa umm', like a lot of people down in the mud at the river, yeah? And then these chords, the way they come in, it sounds like the sunrise - bang! - like this incredible light, and then the whole day passes, and at the end you start roaring, you start having a little fun, like you kind of party out at the end into this New Orleans feeling, y'know? I was in the Everglades fishing, but I was feeling a lot like I was in Louisiana when I wrote the song! It was weird.
I had a bit of a composition I'd started on piano, but I actually got it together when I was fishing out on this boat with a couple of buddies. All day we were just sitting there goofing off, drinking beer and fishing and just having fun. Rainstorms, the whole thing ­ it's a fun piece of music. Joe takes just the greatest solo at the end, starting off with this trombone-sounding thing, then goes into this organ thing.I like the song!" (laughs)
"Do you have a favourite track on the new album, or is 'River People' it ?"
"Every track is my favourite on this album: the album itself is a track. It's like a movie, it is very well interweaved I feel, and I like 'em all. Personally I like 'Punk Jazz' because it's the last piece of music I wrote, and I wrote it specifically for the album, as opposed to 'River People' that I had four years ago. It's a satisfaction thing, like 'I came up with the goods', so you feel like you did your work and it was done specifically for the album... It's just a really well-orchestrated tune: a lot of work went into it. Musically, I just really like to listen to the whole album ­ but I really like 'Mr Gone', too." (laughs)
"There is a bass synthesiser sound on that track, isn't there ?"
"Yeah, that's the Oberheim bass. That's down to Joe: it's really the main sound. In fact, I don't even play on 'Mr Gone' until much later in the tune. I just come in as a cushion to the Oberheim bass at the end, it just gives it a little bit of roundness, you know, coming in with the fretless an octave higher, but almost the whole tune is Oberheim bass."
For anyone who ever doubted Jaco's faculties at this stage of his life, check out his perfect recall of the upcoming itinerary in response to one of my questions ­ and this is in the middle of a tour!
"We started touring June the 18th. We landed in Tokyo and we played for about five weeks ­ we played all of Japan ­ Tokyo six nights, alone, because the town is so big! Then we played a couple of weeks in Australia, Hawaii, then back to the States for a week and a half's vacation. Joe and I went and mixed the album, finished Mr Gone, and then we had to go on a European tour right after, and we first had rehearsals in LA. We hooked up with Peter (Erskine), our new drummer, just before we went to Japan. He only had one or two rehearsals. Wait till you hear him, this guy's unbelievable!
After arriving in Europe, September 14th was our first date ­ but we'd been here since the 9th, getting our crew and equipment together ­ and up 'til then, we have been doing the mainland. We just finished the provinces, now we will be doing London, a couple of nights, Bristol, Birmingham, and then we'll be home again for a week off. Then we're right back with a seven-week-tour of the United States, so in mid-November, when you're saying this comes out, I'll probably be in... Columbus, Ohio!"
"You mentioned the new drummer. What is the current line-up on the tour ?"
"Wayne (Shorter) and Joe (Zawinul) on their respective instruments, myself on the bass, and Peter Erskine on drums. That's it. We're just playing quartet. It's pretty dangerous! The album is more or less quartet anyway, so we went out on the road in the same fashion."
"Does Peter play the drums as well as you ?" (laughs)
"As well as? That means 'also' over here, right? But I know what your saying. Naa, this guy's got chops like nobody else. I think my right foot is a little funkier than his ­ ain't better, just a little funkier! (laughs) Peter just left Maynard Ferguson's band after two and a half years, plus he was with Stan Kenton's band before that for three years. He's a 'road rat' already, and he's only 24 years old! He's been to music school, been playing drums since he was four; whereas I'm pure street kid, never had a music lesson in my life, learned everything from my friends, y'know, goofing off, and just constant gigging in night-clubs all night, eight sets a night, stuff like that. That's where I did my learning, just putting in a lot of time. Peter, he's put in tons of time working too, but he's also got incredible schooling, and can really play. Man, he's played Edgar Varèse's 'Ionisation' and stuff; he's just out there. He can sight-read and all that crap, and he's one of the nicest people you'll ever meet, so that helps!"
"A lot of Weather Report's work seems to be constructed from already written music, rather than improvised ­ is that detrimental to creativity in any way ?"
"Just the opposite; that's why we're the only band that's working! We can write music, plus we know how to play it. A lot of the music, people will say, 'That sounds like it's improvised', and that'll be the written part! Crazy. We do tons of stretching out in the music, on every tune, but it's on top of a good form, you know? Like I got this tune, 'Punk Jazz', man, and at the beginning, look out, because this is some stone jazz, and we come in sounding like a symphony, but it's just Joe and me playing. It's unbelievable. Then Tony (Williams ­ sessiondrummer) comes in, and he's smoking, and Wayne takes one of the all-time classic sopranosaxophone solos. But all that ensemble work is written out and we're grooving, and whatever talking we're doing is within the framework, so we're still completely improvising.
I was really proud of Joe because he really got his calligraphy together for this album. (laughs) Usually they just throw you a piece of paper with a couple of marks on it, y'know, and you gotta work it out! This was a lot easier to read this time!"
...and that's where we left off, and I went next door to meet Joe Zawinul !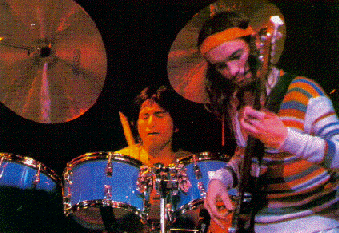 I did see Jaco again, that night at the Hammersmith Odeon, but this time watching and listening from 'up in the gods'. Frankly, the sound wasn't all that great up there, but I do remember Jaco's explosive bass solo spot, which certainly was 'something else'! Looking back almost 20 years on, there are so many more questions I could have asked, and lots more I would have liked to have asked, with the benefit of hindsight. As it is, I'll just have to remember Jaco Pastorius through my favourite recordings. 'Donna Lee' and his own composition 'Portrait of Tracy' still make my jaw drop when I hear them, and I love 'Jericho' and 'Off Night Backstreet' from Joni Mitchell's Don Juan's Reckless Daughter, and Jaco's strong contribution to her jazz-tinged tribute to another giant of the bass, Mingus. On 'The Dry Cleaner From Des Moines' Jaco adds a powerful stabbing horn arrangement to a bass part that weaves chuckling statements through the laid-back swing of brushed drums and gentle percussion. Then the album's closing tune 'Goodbye Pork Pie Hat' showcases the flip-side of his playing, with endless, voluptuous gliding notes and chordal pads sounding like a whole orchestra.
And I'll never forget him singing the opening bars of 'River People' to me! Sadly, it's Jaco that's Mr. Gone, but his marvellous music lives on...
Copyright: Clive Williamson & Symbiosis Music (www.symbiosis-music.com)