Videography
Many are unavailable. A couple of the entries are 2nd- or 3rd-hand information, so alleged to exist.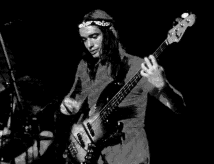 1974 Pastorius, Metheny, Ditmas, Bley - video effects
1976 Weather Report - Live at Montreaux (Montreaux Jazz Festival)
1977 Weather Report - appearance on "In Cocert"
1978 Weather Report - Rockpalast Germany
1979 "Focus on Jazz" television broadcast of Jaco's solo performance at the "Berliner Jazztage 1979" (Berlin)
1979 All-star jam with John McLaughlin and others, from "Havana Jam" - short video clip
1979 Joni Mitchell - Shadows and Light (1980 release on Warner Home Video)
1982 Aurex Jazz Festival 1982 (Japanese and English subtitles) - Word of Mouth Big Band in Japan
1982 "Festival International de Jazz de Montreal" (six-piece band at Montreal Jazz Festival, Spectrel Video)
1984 "Barry Finnerty's New York All Stars" featuring Mike Stern and Jaco - 55 Grand club
1985 "Jeff Berlin" (instructional video) - brief excerpt of Jaco and Jeff soloing on "Invitation"
1985 "So What?" - television broadcast in Belgium

1985 Jaco Pastorius "Modern Electric Bass" (instructional video)