Pat Metheny
---
Pat Metheny is one of "really great musicians" today !! And I love his music.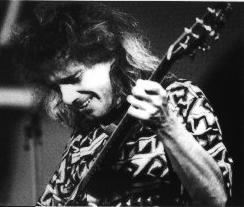 He had a fine friendship with Jaco, and they made one fantastic album together (Pat's "Bright size life", ECM 1976) - and they played together on tour with Joni Mitchell (listen to "Shadows and light" from that tour).
Check out the official website of the Pat Metheny Group !!
One of my friends has many fine things on Pat, too:
http://home.worldonline.dk/~nicolas/jazzguitarister.html