More Zawinul - stuff from Internet !!
---
HISTORY FLOWING BY by Christian Zincke: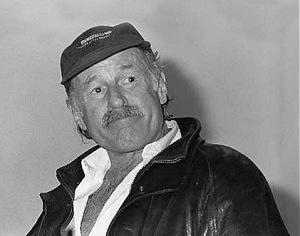 JOE ZAWINUL - Viennese Background

Josef Zawinul was born in Vienna on July 7, 1932. He is of Hungarian, Czech and - as he himself insists - Sinti origins. Brought up by his grandfather, he began playing Austrian folk music, "gypsy tunes" and anything else he came across on the accordion or violin at the age of six. It was not until he was twelve that he started to play the piano, which was later to become his main instrument. Zawinul subsequently studied at the Vienna Music Conservatoire, took private tuition, and - in the early fifties - began performing on piano and bass trumpet with various jazz line-ups: in 1951 with a trio, in 1952 with tenor sax player Hans Koller, later with a long list of musicians in Austria, Germany and France.
The American Dream
Still in his twenties, Zawinul was obsessed with the idea of "making it in the States". In 1959 he entered a competition sponsored by Down Beat (the leading jazz periodical which voted him best keyboard player 22 times in a row) and won a scholarship to Berklee Jazz College. Just as Miles Davis had left the Juillard School to play with Charlie ("Bird") Parker, so Zawinul stayed at Berklee for only a few days before joining Canadian trumpet-player Maynard Ferguson's band. In 1959/60 he accompanied singer Dinah Washington, then played for trumpeter Harry "Sweets" Edison and singer Joe Williams.
Breakthrough with "Cannonball" Adderley
In 1959, Julian ("Cannonball") Adderley, who had made his name as alto sax player in Miles Davis's band, set up his own quintet to play soul and jazz. Adderley had an astute ear for talented young musicians and, in 1961, took on the Austrian keyboard player. Josef (now renamed "Joe") Zawinul soon emerged as the linchpin musical personality and outstanding composer in what was otherwise an Afro-American band. It was during these years that Zawinul composed such well-known numbers as The Country Preacher, Walk Tall and Mercy, Mercy, Mercy.
"Joe" Zawinul stayed with "Cannonball" Adderley's band until 1970. They travelled the world on tour and were acclaimed by audiences in the United States, Europe, Japan and Latin America. Zawinul also found time for recording sessions with artists like tenor sax players Coleman Hawkins and Ben Webster, trombone-player Jay Jay Johnson, and his old friend and colleague from Vienna, Friedrich Gulda (Concerto for Two Pianos and Orchestra, 1966)
E

lectric Jazz with Miles Davis

During the late sixties, Miles Davis began to change his style, mainly under the impact of rock music, above all of Jimi Hendrix. During this transition to electric jazz, Zawinul was involved in five key Davis recordings, including In a Silent Way and Bitches Brew.
Weather Report
In late 1970, Zawinul founded the jazz-rock group Weather Report with Wayne Shorter (tenor and soprano sax) and Miroslav Vitous (bass). The band's music would be as changeable as the weather. They kept branching out into new areas (without ever pandering to passing trends), achieved the kind of record sales only pop bands can usually hope for, and garnered poll ratings and awards (including a Grammy) without taking commercial short cuts. The group lasted 15 years and was voted Number One 15 times in a row in Down Beat. Zawinul was voted best keyboard player 22 times in that periodical's reviews and reader's polls. Weather Report developed an idiom whose transparency derived from the meticulous allocation of the musical strands, the parts often interchanged amongst the various instruments. The idiom also drew on the blending of acoustic and electronic sounds and on the interaction of the pulsing polyrhythms subtly embedded in the fabric of the percussion playing with the melodic, motivic and thematic elements of the music - these latter in their turn frequently set in counterpart to each other. The band's best-known albums were Weather Report (1971), I Sing the Body Electric (1972), Black Market (1976) and Heavy Weather (1977). This last album contains the Zawinul composition Birdland, which became a best-seller world-wide in the vocal arrangement by "Manhattan Transfer".
Zawinul as a
s

tylistic

i

nnovator

Important though "Joe" Zawinul may be as a jazz pianist, his real significance lies in his role as the pioneer and perfecter of a style which incorporated electro-acoustic and electronic keyboards along with a whole battery of peripheral equipment for modifying sound and pitch. Even incorrigible opponents of electronic music nodded their approval of Zawinul's formula Play electric, sound acoustic. Polish pianist Adam Makowicz, for instance, commented: "He has a superb feeling for the inherent possibilities of keyboard instruments as a whole." Having absorbed the influence of George Shearing and Nat King Cole at an early age, Zawinul went on to develop an increasingly distinctive style. His playing and his compositions, with their idiosyncratic melodic rhythms (often described as explicitly "black") and their subtle use of rests and spaces ("I'm a space musician"), are instantly recognisable. The endless possibilities which synthesizers afford never seduced him into overloading his arrangements. "Take the sound of a bird - that interests me." One of the most conspicuous features of his synthesizer registrations, then, is transparency: clear-cut contours, a recurrent predilection for clarinet or flute sounds, diversification of the orchestration, the avoidance of blanket chord accumulations, space for the thematic polyphony to come across.

In 1987, Zawinul founded a new band, Weather Update, whose line-up includes Peter Erskine on drums:

"As an accompanist and keyboard player, Joe Zawinul was able to induce a kind of musical intoxication in men like "Cannonball" Adderley and Miles Davis. On his playing with Wayne Shorter in "Weather Report" he once remarked: "Each note counts... When Wayne and I improvise, solo and accompaniment fuse into one... we weave melodies and set the stage on fire."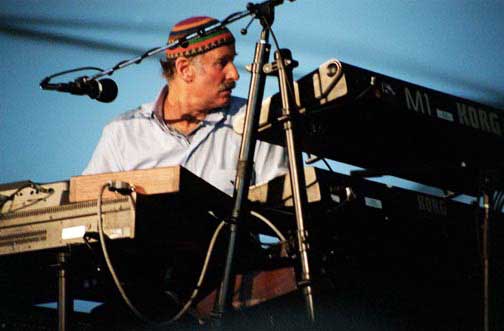 ---
CAUGHT IN THE ACT:
MAHAVISHNU

&

WEATHER UPDATE

At The Ritz, by Bill Milkowski (Quote from DownBeat magazine: December, 1986)

NEW YORK - This dynamic double-bill drew just about every young fusion musician in town. As it turned out, they suffered through the low points (mainly Weather Update's) to get to the high point's (mostly Mahavishnu's). Of course, Joe Zawinul was operating with something of a handicap. His latest touring band - drummer Peter Erskine, bassist Victor Bailey, percussionist Robert Thomas Jr., and guitarist Steve Khan - had not been together nearly long enough to coalesce into a unit the way Mahavishnu has over the past two-and-a-half years. Erskine and Bailey had it down alright, but try as he might, Khan just couldn't fill the shoes of Wayne Shorter. Well, no one really asked him to. It's an impossible task. The inclusion of a guitar into the Weather Report domain is enough to raise the eyebrows of devotees.

Strangely, Khan took a wholey different approach to his instrument than he had with his own group Eyewitness or on any of his fine fusion albums for Columbia during the late '70s. This time out he laid heavily on the wang-bar, went for fluid legato runs, and reached over with his strumming hand for some trendy two-handed trilling schtick a la Allan Holdsworth and Eddie Van Halen. It all seemed somehow more for show than for any musical considerations. Zawinul's gnome-like robot vocals (on Vocoder or whatever gizmo he's operating) were tolerable at best, annoying at worst. His best moments were his one call-and-response jam with percussionist Thomas and his soulful comping behind the others' solos. Khan added some rhythmic propulsion to the band with his own funky brand of comping, and his dissonant Holdsworthian excursions were daring, if that's your bag. And while Victor Bailey is no Jaco, either in terms of fully realized musicianship or stage presence, he is an unparalleled groovemaster. But the backbone of Weather Update is Peter Erskine. I'd endure a whole night of Zawinul's Kraftwerkian vocals just to hear Erskine power this band. Few drummers (besides Billy Cobham) combine power and swing the way Peter does. And his quick-wristed fills are just too cool.

Mahavishnu, on the other hand, is smokin' so hard now it's frightening. The core of Danny Gottlieb on drums, Bill Evans on saxes, and Jonas Hellborg on bass has been together long enough (nearly three years) to reach that level where they're playing instinctively, almost telepathically, just like the Mahavishnu Orchestra of old. John McLaughlin remains amazing. No other guitarist around (including all the Yngwie Malmsteen clones out there) plays with such pure passion and sheer conviction. Evans is quickly becoming his alter-ego. And Hellborg, one of the most astounding bass players on the scene today, is strictly showtime. His solo showcase, in which he slapped, kicked, and thrashed his double-neck before quoting from an early Mahavishnu tune (Dance of Maya) nearly brought the house down. One interesting note was the addition of keyboardist Jim Beard, who replaced Mitch Forman. His Zawinul-esque approach to chordal voicings and meters gives Mahavishnu yet another weapon in it's arsenal. This band is now a very formidable force.
---
American Tour News
1997
The current lineup of the Zawinul Syndicate on tour is as follows:
Richard Bona: Bass
Paco Sery: Drums
Manolo Badrena: Percussion
Gary Poulson: Guitar
Joe Zawinul: Keyboards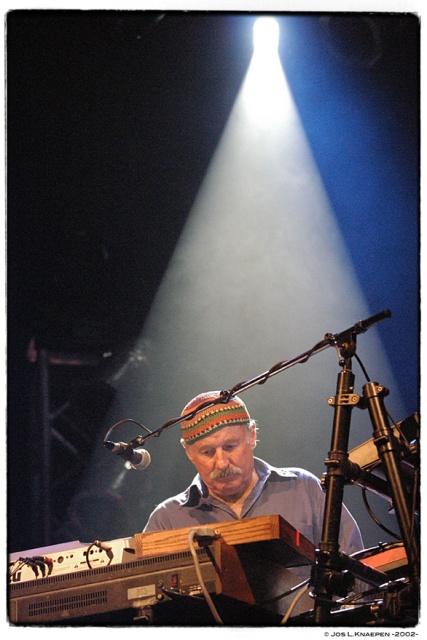 The planned Weather Report reunion, scheduled for the end of this year, now appears to be off due to a lack of time, musical differences and the tragic death of Wayne Shorter's wife and cousin. (Both were passengers on the TWA 800 flight which crashed just prior to the start of the Olympics).
The 4 CD box set retrospective, featuring early Weather Report live performances, is currently on hold due to Wayne Shorter's indisposition (see above) and may be in a different format to what was previously expected. One possibility is that it will consist of 3 CD's of remixed studio material plus one of live recordings. The other option, suggested by the head of Sony Jazz in the UK, is that a single or double set of the live stuff may arrive in October.
The elusive Sweetnighter album is now available on CD as a Columbia mid-price release. This means that in the UK it sells for a relatively reasonable £9.99 as opposed to the extortionate £13.99 they would normally charge. Other previously unavailable albums such as Procession, Sportin Life, and This is This will also be available soon on CD for the first time.
Stories of the Danube - "the world première recording of Joe Zawinul's first symphony" is now available on the Phillips label no. 454 143-2. A booklet is included which offers an introduction to the work, plus an appreciation of Zawinul the musician and composer, by Franz Putz. This latter text provides some amusing moments when the author lapses into his best, jazz-critic muso-speak e.g. "One of the most conspicuous features of his synthesiser registrations, then, is transparency: clear-cut contours, a recurrent predilection for clarinet or flute sounds, diversification of the orchestration, the avoidance of blanket chord accumulations, space for the thematic polyphony to come across." Helpfully, all this is available in German, French and Spanish as well as English. Vielen dank Franz!
My People, the latest album by Joe Zawinul, has now been released on the Escapade Music label no. 03651-2 with performances by Syndicate members, Trilok Gurtu, Salif Keita and a fabulously eclectic mix of musicians from all around the globe. Some are from countries you've never heard of!
Possessing an entirely "World Music" feel to it, the album features several remarkable vocal contributions including a debut for Joe himself, sans vocoder - "just a little effect on it".
*** My People has just been nominated for a Grammy Award as Best World Music Recording, along with Wayne Shorter's High Life (in the Contemporary Jazz category).
---
Review from www.miningco.com of the 2CDs:
"

World Tour

"

by Joe Zawinul & Zawinul Syndicate (1998)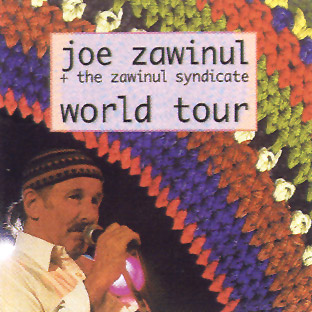 It must be a tough job for Joe Zawinul. I'm not sure, but it sounds to me from the sound of his new World Tour CD, that he is still trying to find a replacement for Jaco. Victor Bailey is the latest victim of the "didn't Jaco used to play this same exact thing only better?" syndrome.
When will we ever learn to just let those Jaco licks rest? Unless you're Gary Willis... in which case go ahead. He plays all over and around Jaco's style and still sounds like Gary. But one can sympathize with Victor's plight, there on stage with the Z man himself, and sure enough it sounds like Weather Report, it tastes like Weather Report. And one can forgive a bassist who for a moment or two, thinks, "Am I Jaco?"
The first tune was the main culprit, called "Patriots" which finds the band in the midst of a wild jam and the staccato bass funk is a direct Jaco pull, though not pulled off I'm afraid. I see Jaco as the Jean-Michel Basquiat of the electric fretless bass, and no self-respecting artist would do a direct take on him, would they ?
But beyond that first tune, sanity prevails for the most part, with Zawinul's awesome creative vocals and/or vocoder, keyboard work, and drumming by Paco Sery, MANOLO BADRENA, plus very interesting guitar picking by Gary Poulson. Badrena and Sery play a phenomenal two-minute duet (that they wrote) called "Asi' Trabajamos" which finds Badrena singing his tribal stuff and playing bongos and/or timbales. I love that guy's music !
I'll always think of that two-minute "Rumba Mama'" on Heavy Weather as the intro to "Palladium." And Bailey does a nice job of blending on the gorgeous ballad "Three Postcards" though, I must say, and has a nice deep rich tone on the tune. The LIVE magic continues when Paco Sery plays a kalimba feature on the 6th tune "Zansa II" with a nice running 32nd note piano accompaniment. So soulful. And what is happening with that vocoder? Wow. You must hear this cut. No sound sound clip could possibly do it justice.
To tell you the truth, Joe Zawinul doesn't need to employ another Jaco to remain one of the all time greatest musicians to ever experiment with jazz, ethnic, and world music. He has it all still happening on this record.
PS: Another longer and better review her >
---
Review by Peter Marsh (www.bbc.co.uk)
Weather Report
"

Live and Unreleased

"

(2002)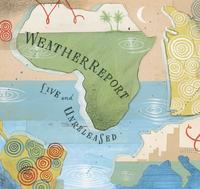 Though the excesses of 70s fusion (dry ice, triple necked guitars, mini moog solos dedicated to Walt Disney characters, concertos for jazz-rock orchestras etc) are now regarded by many with distaste, the legacy of Weather Report seems to have escaped with its credibility intact.
Columbia's recent reissue programme of early classics such as Sweetnighter, Mysterious Traveller and the neglected Tale Spinnin' were a reminder that Joe Zawinul and Wayne Shorter's outfit were operating on a whole other level from the grim prog rock flash of Return to Forever and the Mahavishnu Orchestra; they were funky, atmospheric and most importantly they didn't measure musical worth in terms of the amount of notes they could squeeze into a bar.
Live and Unreleased compiles live recordings from between 1975 and 1983, with several different lineups including bassists Alphonso Johnson and Jaco Pastorius and proves that despite their orchestrated approach to the studio, the band were a different proposition live, particularly in the earlier lineup. The opening "Freezing Fire" (from Tale Spinnin') is a case in point; from the off Thompson and the much underrated Johnson are on fire, generating ferocious octopoidal grooves under Shorter's long toned soprano and Zawinul's electric piano stabs.
LIkewise "Cucumber Slumber" is classic booty shakin' spacefunk, with Shorter's fruity, oblique tenor given plenty of room, and 'The Man in the Green Shirt" (one of Zawinul's loveliest melodies) is given a rigorous workout. "Directions" is taken at a furious lick too, with Shorter's questing saxophones and Zawinul's wobbly synth runs rising on the thermals generated by the rhythm section.
The arrival of the virtuoso Pastorius marked a move towards more ornately composed material, with his trademark singing fretless bass (imagine Scott La Faro or Charlie Mingus in a zero gravity environment) providing chords and melody lines. Performances like the blister inducing "Teen Town" or the solo bass feature "Portrait of Tracy" spawned thousands of lesser imitators, though few (if any) of them posessed Jaco's ability to make every note (and there are a lot of them) count.
While Shorter's saxophone increasingly took a back seat in the later music (and very rarely tenor), it's his performances that often lift these live versions above their studio counterparts. In particular "Elegant People" and "Fast City" both feature sustained, concentrated blasts of prime Shorter soloing.
Zawinul is on top form. His Fender Rhodes/wah wah combination offers surgically placed bursts of pure funk (check his doubling up with Pastorious on "Teen Town" while he plays chords and lead lines - how many hands has this man got ?), and his solos are as distinctively odd as ever. While the 1983 tracks (the overlong, episodic "Where the Moon Goes", complete with vocoder, and the slightly cheesy "Plaza Real") display Zawinul's tendency to overdo it a bit, on the whole this wonderful collection casts a new light on one of the finest exponents of the 'f word' that there have ever been. Corking.
Listen to the tracks online here: http://legacyrecordings.com/site_artists/artist_669.html
---
2004: Joe Zawinul opens his own Jazz Club in Vienna, Austria
Joe Zawinuls Birdland
Am Stadtpark 1
Eingang: Landstraßer Hauptstraße 2
1030 Wien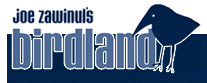 Spring & fall 2004: Joe and his syndicate record 2 CDs live from the club:
"Vienna nights - live at Joe Zawinul's Birdland (2005)
---
2006: Joe Zawinul is once more chosen as #1 keyboardplayer in the world
by the readers of Downbeat magazine
- in front of Chick Corea (2) and Herbie Hancock (3)
10. sept. 2007: Joe Zawinul died of cancer i Vienna (Austria)
---